Mitacs Globalink Research intern researches computer vision techniques at ÉTS in Montreal
For diagnosticians and surgeons working to prolong the lives of patients with heart disease, the map that a pre-surgical x-ray provides is often not enough to navigate the unique and changing terrain of the human body. With heart disease affecting 1.3 million Canadians, an accurate map of a diagnosis can have profound effects on the patient's recovery time and outlook — ultimately saving lives and reducing costs.
Enter Duc Nguyen, a Mitacs Globalink Research intern from Ho Chi Minh City University of Science in Vietnam, who is learning how computer vision and machine learning techniques can be applied to better equip surgeons for the battle against heart disease. Under supervision from Professor Luc Duong from École de Technologie Supérieure (ÉTS), Duc is collaborating with researchers at the Sainte-Justine Hospital Research Centre to improve upon existing medical image analysis tools to provide a map for diagnosis of the disease.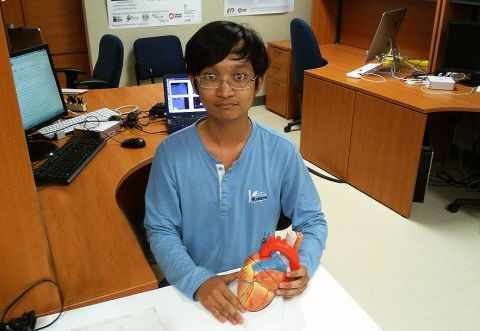 Having previously conducted research on image segmentation and identification for social media applications, Duc is applying his knowledge to a whole new setting. Through the techniques that Duc is helping develop, surgeons will one day be able to use an augmented reality tool that can separate out an image of a patient's coronary arteries from an x-ray image of their entire heart. Depending on the diagnosis and severity of the disease, the surgeon can then choose the best — and least invasive — course of action for the patient.
For his part, Duc is excited by the research opportunity at ÉTS and Sainte-Justine: "I like that there are sufficient equipment and facilities here for a researcher to do his best, and my professor gives me important guidance when I reach challenges in the research. "
Together, with the other Mitacs Globalink interns, Duc has benefitted from a series of Mitacs Step professional development workshops, and countless opportunities to network with local business people. For instance, he enjoyed touring and meeting researchers at a local biotechnology research hub, where he learned about advanced research opportunities that could await him.
"Being here in Montreal, and doing research like this has exposed me to a whole new environment, and helped me to develop my communication and professional skills," he says. "I encourage other students to think about coming to Canada for research. Mitacs Globalink is a once in a lifetime experience!"